Trish
I'm Trish, an Australian teacher at Omeida English College. I have a degree in Communications from the University of Canberra, and after finishing my studies I began travelling the world, which had always been a dream of mine. I have had many exciting and interesting jobs along the way, including being a croupier in a casino, worked on yachts, and I have also been a tour leader for a travel company. Travel is obviously a big passion of mine, but I also enjoy reading (especially literature and history), movies, gardening, and of course exploring the beautiful scenery of Yangshuo.
I finally found my way to China and fell in love with the country immediately. I settled in Kunming for two and a half years, and began my teaching career there. I moved to Yangshuo in July 2010 to join Omeida. Teaching is definitely one of the most enjoyable and rewarding jobs I have had, and working at Omeida especially has been great fun. I really appreciate the help and support from all the staff, and the great working atmosphere of the school. I also have great respect for my students who are working so hard to achieve their goal of learning English. Learning English can be a very tough job, but I find the dedication and perseverance of my students to be very inspiring, and that in turn inspires me to find interesting and creative ways to present my classes.
I have also been struggling with language learning myself – I have been studying Chinese – and so I understand the difficulties students face when coming to grips with a new, and completely different, language. Omeida's policy of "English Only" is a great way for students to improve their English quickly, and to build confidence in communicating. The foreign teachers at Omeida come from many different countries, which I think is a tremendous help for students in that they can be exposed to different accents and pronunciations, and so equips them with the ability to communicate with English speakers from all over the world. With dedication and persistence I am sure you can realise your dream of learning English.
获得堪培拉大学学士学位,曾在云南海纳培训学校等担任英语口语老师,帮助他们提高口语运用能力。已经环游了欧洲,非洲和亚洲,在多地从事英语教学的基础使其具有优良的语言应用教学能力,针对学生的口语表达能力和生活应用有独特的教学方式,让学生能轻松自如掌握口语表达的能力。多年的辅导经验也让Trish在培训成人英语能力方面有丰富的经验。她教学准备充分,轻松活泼;为人亲切随和,平易近人;做事认真负责,一丝不苟。她希望能与渴求语言学习的你成为朋友。
在Trish看来,欧美达English Only 的黄金政策,对促进学员学习英语是非常有帮助的。来自世界各地的外教,不同的口音和发音,可以帮助学员适应不同国籍的老外,了解不同的西方文化,对英语学习有着极大的促进作用。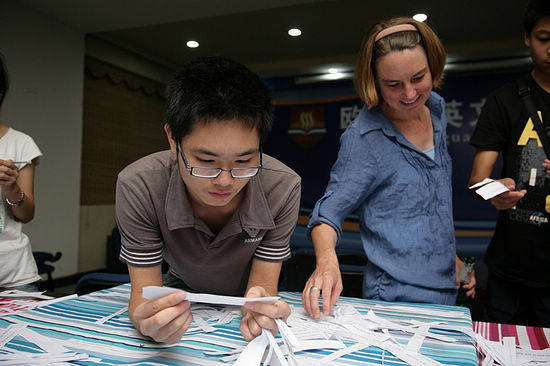 Trish 在积极参与学校的Riddle(猜字谜)游戏。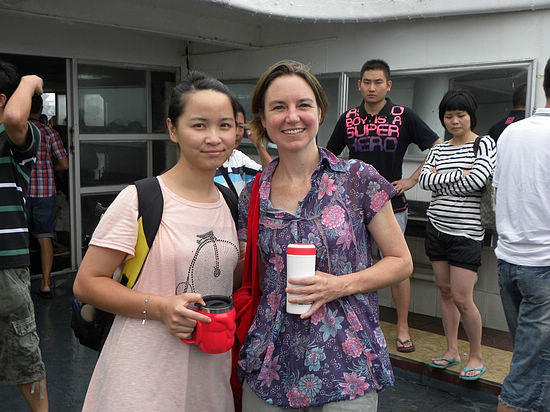 Trish在学校组织的北海之旅中,与老师Grace的合影。